!-onMouseover Link CSS Script-© Dynamic Drive (www.dynamicdrive.com). For full source code, installation instructions, 100's more DHTML scripts, and Terms Of Use, visit dynamicdrive.com-->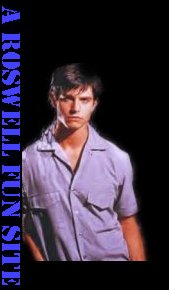 Updates


Nov 30, 2000 I've added the "Morning After" crossword & six new scramblers to games. I've also added a new affiliate, Miko Hughes Online. You might have noticed the poll has been updated as well. To view archived poll results simply click here.

Please be sure to check back often; as a new top ten & christmas roswell dance are on the way!

Nov 19, 2000 Wow, lots of updates for today! I've added four new sections, as you've probably well noticed. Rosmail, Fan Fiction, The Smiley Archive & the one.. the only.. ROSWELL DANCE! Oh yeah baby! You've seen hamsters dance.. why not the cast of Roswell? My thoughts exactly!

I've also added three new banners to link to me with, two more affiliates, I've updated my awards won page & winners page.. so you can see who has received my award so far. Please be sure to check out all the new sections.. I think you might find them pretty interesting. And as always.. check back often for more updates! :)

Nov 12, 2000 A few updates today, more on the way. I've added a new catagory to the games, Roswell Episode Crosswords. I will be going in the correct order of the episodes & I promise not to skip around. There will be a new episode crossword every two weeks. To play the current crossword, the pilot, click here.

Also, I've added a few more affiliates & I've changed my award. So take a look at those. Be sure to check back often.. as some new sections to this site are on the way.

A Night on the Town is a Roswell Fan Site owned by Autumn.
It is not affiliated with Jason Katims Productions, Regency Television, FOX, the WB
or any other company affiliated with Roswell. All creative rights reserved © 2000